CEO Message
The ADNOC Group is one of the world's leading oil and gas companies with a production capacity of around 3 million barrels per day. We manage 95% of the UAE's proven oil reserves and 92% of the country's gas reserves.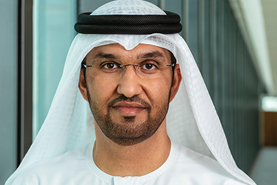 With the guidance and unwavering support of our wise leadership, H.H. Sheikh Khalifa bin Zayed Al Nahyan, President of UAE and Ruler of Abu Dhabi, and H.H. Sheikh Mohammed bin Zayed Al Nahyan Crown Prince of Abu Dhabi and Deputy Supreme Commander of the UAE Armed Forces, ADNOC has always been an important cornerstone of the UAE's success as a nation and will continue to play a pivotal role in its future progress.
We are committed to maximizing the value of our oil and gas assets and to remain a trusted and reliable global energy supplier for the long-term benefit of our country and our customers.
We will do so by focusing on four strategic areas: enhancing the company's performance, increasing profitability, optimizing efficiency, and investing in our people. In this way ADNOC strives to be the energy that powers the nation and drives the engines of prosperity by unlocking the full potential of our natural and human resources.
We aim to achieve this by working closely with our international partners to strike a sustainable balance between society's current and future energy needs, and by using the most responsible and innovative methods of operation.
ADNOC is a performance driven organization powered by our workforce of exceptional women and men. Investing in our company's human capital will ensure that ADNOC remains a pillar of the UAE's social and economic development for decades to come.
Dr. Sultan Ahmed Al Jaber
Chief Executive Officer