ADNOC Group CEO Visits The Founder's Memorial with ADNOC Schools Students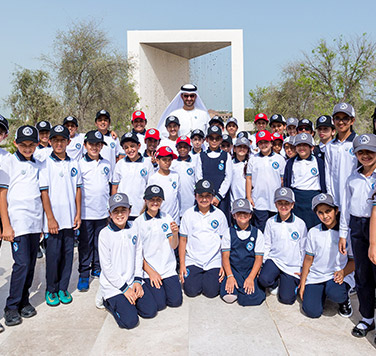 Abu Dhabi, UAE – May 30, 2018:
His Excellency Dr. Sultan Ahmed Al Jaber, UAE Minister of State and ADNOC Group CEO, joined by more than 30 students from ADNOC Schools, visited The Founder's Memorial, a permanent national tribute dedicated to commemorating the life and legacy of the late Sheikh Zayed bin Sultan Al Nahyan, the founding father of the UAE.
A place to learn about Sheikh Zayed, through art, nature, words, stories and multimedia experiences, The Founder's Memorial offered ADNOC Schools students the opportunity to experience Sheikh Zayed both as a man and as a leader – enabling them to gain an understanding of his vast influence on the UAE and the wider world.
Coinciding with the Holy Month of Ramadan, the students' visit provided an opportunity to learn about the values Sheikh Zayed embraced, including education, and the important role personal and professional development has played in the growth and progress of the nation.
In service of the late Sheikh Zayed's educational priorities – and the UAE's National Strategy for Higher Education 2030 – ADNOC Group has created a world-class education and energy research ecosystem that harnesses the talent and creativity of UAE's youth and supports the development of the oil and gas sector.
Education also serves as a key pillar of ADNOC's Corporate Social Responsibility (CSR) program, which focuses on programs aimed at education and empowering youth, especially in the field of STEM. Through ongoing community-focused CSR efforts, ADNOC aims to create a positive and lasting impact on society, with programming that incorporates social impact activities, volunteering and national service.
Founded in 2008, ADNOC Schools teach Emirati and expatriate students a rigorous curriculum based on the highest academic standards, preparing them for admission to the world's leading universities. More than 6,000 students are enrolled across four campuses in Abu Dhabi, Ruwais, Madinat Zayed and Ghayathi.