Healthy Global Economy Pushing Up Energy Demand that Can only be Met by Diversified Energy Mix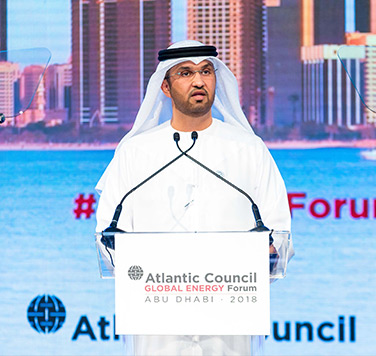 Abu Dhabi, UAE – January 12, 2018:
Forecast growth in the global economy, especially in non-OECD countries, will push up energy demand to levels that no single source of energy can meet, according to H.E. Dr Sultan Ahmed Al Jaber, UAE Minister of State and ADNOC Group CEO.
Speaking at the second Atlantic Council Global Energy Forum, in Abu Dhabi, H.E. Dr Al Jaber said the global energy industry's fundamental mission remains to ensure security of supply in a world in which market dynamics are shifting and energy consumption is set to expand by 25 per cent by 2040.
"Today, as we convene this year's Forum, we are encouraged by a global economy that is the healthiest it has been in the last decade," H.E. Dr Al Jaber said. "This economic growth will continue to drive energy consumption, which will expand by at least 25 per cent by 2040 – to a level no single source can meet. So, as we diversify the energy mix, hydrocarbons will continue to play a vital role in meeting demand. In fact, by the end of this year, global demand for oil alone is set to break the threshold of 100 million barrels per day.,"
In response to the changes in the energy market, H.E. Dr Al Jaber said, ADNOC is creating new strategies, rethinking its business models and enhancing its performance. By pivoting towards new, smart growth, unlocking and maximizing value and optimizing its capital structure, the company is redefining the rule book for how an NOC operates.
ADNOC's 2030 strategy, he said, aims to capitalize on predicted global economic growth and demand for oil and petrochemical products, particularly in non-OECD countries. As its business responds to changing market dynamics the company will continue to broaden its partnership base, strengthen its profitability, adapt to new realities and expand market access.
A major part of ADNOC's growth strategy is the creation of the largest, integrated, refining and chemicals site in the world, in the UAE, to enable it to increase crude refining capacity by 60 per cent and more than triple its petrochemical production. When the expansion project is completed, ADNOC will convert 20 per cent of its crude to chemicals, diversifying its range of higher value products to provide a natural hedge to oil price movements. ADNOC has also announced plans to expand gas production, to meet the UAE's growing domestic needs, by accessing undeveloped tight reservoirs, tap into its gas caps and expand sour gas production.
H.E. Dr Al Jaber said as the pace of innovation accelerates, the energy sector must become more flexible, nimble and responsive and engage with non-traditional partners, beyond the industry, to deliver creative solutions to meet the world's growing energy needs.
"Fortunately, we are entering an era where technology has the potential to keep us ahead of the curve. Artificial Intelligence has already begun to transform industries as diverse as manufacturing, retail and finance. Now, it is being applied to the energy sector, where the possible benefits include minimizing disruptions, balancing supply and demand and optimizing costs."
Highlighting the role AI and Big Data are playing in ADNOC's ongoing transformation. ADNOC, H.E. Dr Al Jaber said the oil and gas producer is exploring how AI can help enhance efficiencies, make the organisation more agile and drive higher performance, while also leveraging predictive data, as a commodity of limitless value to enhance visibility into its operations, above and below ground.
The two-day Atlantic Council Global Energy Forum is being held in partnership with the Ministry of Energy, Abu Dhabi National Oil Company (Adnoc), Mubadala, IPIC and Masdar. It has brought together over 350 leading energy voices from the region and around the world.
The forum was established, in 2017, as part of Abu Dhabi Sustainability Week, preceding key events including the International Renewable Energy Agency's Annual Assembly and the World Future Energy Summit. It will help set the 2018 energy agenda, strengthen understanding of energy markets, encourage breakthrough technologies and foster sustainable development.
"In the short time since its inception, the Atlantic Council Global Energy Forum has served to identify critical trends, convene key stakeholders and establish itself as an important gathering for the global energy conversation. It is an ideal platform for bringing together the right partners, engaging in meaningful discussion and activating real progress." H.E. Dr Al Jaber said.
The Atlantic Council is a Washington DC based think tank. It promotes constructive leadership and engagement in international affairs and provides a forum for navigating the economic and political changes defining the 21st century by informing and galvanizing its influential network of global leaders, with the aim of creating a more secure and prosperous world.