India's PM Narendra Modi Presents ADNOC Group CEO with "International Lifetime Achievement Award" at Petrotech 2019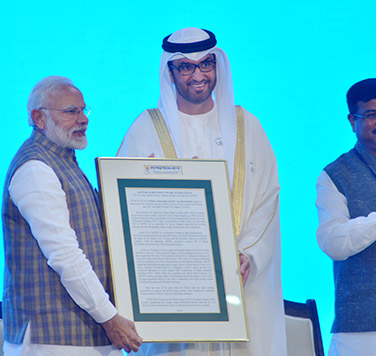 Abu Dhabi, UAE – February 11, 2019:
His Excellency Dr. Sultan Ahmed Al Jaber, UAE Minister of State and Group CEO of the Abu Dhabi National Oil Company (ADNOC), was honored, today, with the "International Lifetime Achievement Award" for his outstanding contribution to the global energy industry. The award was presented to him by His Excellency Narendra Modi, Prime Minister of India, at the Petrotech energy conference being held in New Delhi.
The award recognises H.E. Dr. Al Jaber's contribution to defining how a national oil company of the future should operate and for strengthening ADNOC's strategic links with key growth markets, in particular India. The award noted the transformation underway at ADNOC, which is centered on driving efficiencies and commerciality, embedding a performance-based culture, maximizing value, strengthening strategic partnerships and incorporating the latest breakthrough technologies to ensure the increasing energy needs of fast-growing economies as we enter the 4th Industrial Age. The award also recognizes ADNOC's adoption of a holistic, integrated approach to managing a large complex energy enterprise that can respond nimbly to the fast-evolving energy landscape.
Prime Minister Modi said: "I would like to congratulate His Excellency Dr. Sultan Ahmed Al Jaber for his contribution to the energy sector and his vision for the future."
In receiving the award H.E. Dr. Al Jaber said: "I am honored and humbled to accept an award that recognises ADNOC's evolution, under the wise guidance of the UAE's leadership, as an oil and gas company of the future that is responding to the expanding energy needs of the growth markets of Asia and, notably, India. Following the UAE Leadership's direction, ADNOC has built on the close bonds of friendship between the UAE and India to strengthen our strategic energy partnership.
"In this new energy era, ADNOC is adopting more creative strategies and more flexible business models to capture growth, maximize efficiency and create greater value from every barrel of oil produced. There is a real need for the oil and gas industry to modernize, in order to ensure the world's growing energy needs are met in the 4th Industrial Age.
"This award is a testament to the hard work and dedication of all who work at ADNOC, who are pushing ahead to implement a performance-led, digital-first culture. At ADNOC, we are utilizing advanced digital platforms and analytics to uncover new solutions to optimize our performance and enhance efficiencies across the whole organization, as well as to empower our people.
"At the same time, we are pushing the boundaries of partnership to bring technology, expertise and financial acumen, aimed at maximizing the value of our resources, as we take advantage of the rising global demand for crude, refined and petrochemical products."
Dharmendra Pradhan, Indian Minister of Petroleum and Natural Gas, added: "Recognizing the dramatic shift in energy demand among the rising economies of Asia and, in particular, India, H.E. Dr. Sultan Al Jaber has reshaped the buyer-seller relationship into one based on true strategic partnership. As a result, Dr. Sultan has made a valuable contribution to regional and global energy security, while redefining the traditional NOC business model to adapt to a fast-evolving energy landscape. In short, Dr. Sultan has proven himself a true industry pioneer, who is ensuring the oil and gas industry remains relevant, agile and responsive to the needs of the future."
The Petrotech International Lifetime Achievement Award is officiated by a Prize Jury comprising Mr. B. K. Chaturvedi, Former Cabinet Secretary, Government of India; Mr. S.C. Tripathi, Former Secretary of Ministry of Petroleum and Natural Gas, Government of India; Mr. B.C. Bora, Former Chairman and Managing Director, ONGC; and Dr. Santrupt Misra, Independent Director, ONGC. The four-member Jury selects winners in five award categories in an open nomination process. The International Lifetime Achievement Award is reserved for exemplary work in the oil and gas industry at the global level. Previous awardees include Dr. Daniel Yergin, the Pulitzer Prize-winning energy expert, and Igor Sechin, CEO of Rozneft.
Since H.E. Dr. Al Jaber became Group CEO of ADNOC, nearly three years ago, the company has consolidated its businesses and unified its brand identity; entered the global capital markets for the first time; completed the first ever IPO of an ADNOC business; opened its concessions to new strategic partners; competitively tendered new exploration blocks for the first time in Abu Dhabi's history; launched the UAE's unconventional industry; embarked on an ambitious gas strategy aimed first at self-sufficiency and then transitioning to become a net exporter of natural gas; launched a major 45 billion dollar expansion to its downstream operations; undertaken a comprehensive digital transformation; and taken its first steps to expand internationally. Guided by its strategic pillars of People, Performance, Profitability and Efficiency, ADNOC is creating a dynamic corporate culture that optimizes resources, maximizes value and incubates talent. In 2018, ADNOC achieved its 3.5 million bpd production capacity target and, last month, was named the #1 Most Valuable Brand in the Middle East, by Brand Finance.
H.E. Dr. Al Jaber acknowledged the close, mutually beneficial, strategic and economic relationship between the UAE and India. ADNOC is the only foreign oil and gas company, so far, to invest by way of crude oil in India's strategic petroleum reserves program. It is also a stakeholder, along with Saudi Aramco, and a consortium of Indian state-run companies, in one of India's largest refinery and petrochemicals projects, to be constructed at Ratnagiri in Maharashtra. In addition, in February 2018, for the first time, an Indian consortium of three companies, comprising ONGC Videsh, Indian Oil Company and Bharat PetroResources Ltd., was awarded a 10 percent participating interest in Abu Dhabi's offshore Lower Zakum concession.
Indian energy demand is forecast, by the International Energy Agency (IEA), to grow by more than any other country in the period to 2040, propelled by an economy that will grow to more than five-times its current size and by population growth that will make it the world's most populous country. Indian energy consumption is expected to more than double by 2040, accounting for 25 percent of the rise in global energy demand, and the largest absolute growth in oil consumption.