Procurement
ADNOC is committed to developing and maintaining a qualified, competitive and sustainable supply chain of partners and service providers.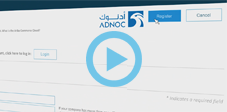 As part of ADNOC Group's evolution into an efficient and performance-driven organization, we are launching a new initiative for improving and streamlining our supplier registration, sourcing, procurement, and accounts payable processes by implementing an automated e-commerce solution effective from January 2017.

If not already registered, suppliers should register to the ADNOC Commercial Directory in order to be considered for tendering opportunities from across the Group. The Directory has the following features:
Online and real time supplier registration system for all ADNOC Group company suppliers
Track your prequalification status online
Update your company profile online
Get invitations for tenders based on your profile (only for ADNOC HQ suppliers)
Access automated and online tender, RFx and bidding tool (only for ADNOC HQ suppliers)
Communication between bidders and ADNOC, including document sharing
Automated notifications and reminder workflow between ADNOC and participating suppliers
SUPPLIER REGISTRATION AND PREQUALIFICATION USER GUIDE
All new suppliers should complete a one-time registration on the ADNOC Commercial Directory to do business with any of the ADNOC Group companies. Existing suppliers of ADNOC Group companies have been pre-registered as part of this initiative.
For more information, read our Frequently Asked Questions. For any other procurement related inquiries, please use the Contact Us form to get in touch with our Procurement & Vendor Registration team.
Ariba Support :
ADNOCSupplierEnablement@ariba.com - For Ariba network ID request/technical support
Supplier Support Services Number:
800 44 55 - For support related to Supplier Registration and Prequalification and other procurement queries