ADNOC Opens North Depot Fuelling Facility at Abu Dhabi International Airport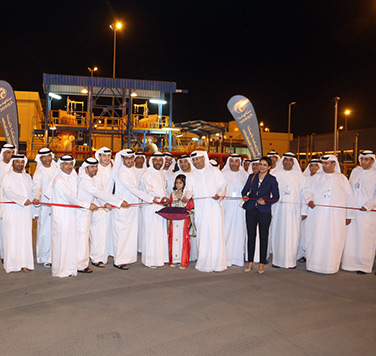 Abu Dhabi, 19 June, 2017
: Abu Dhabi National Oil Company (ADNOC), with its subsidiary company ADNOC Distribution, yesterday hosted an official opening ceremony for its new state of the art 'North Depot' aviation fuel facility at Abu Dhabi International Airport.
The ceremony was overseen by Abdulla Salem Al Dhaheri, Director of Marketing, Sales and Trading for ADNOC, and Saeed Mubarak Al Rashdi, Acting Chief Executive Officer of ADNOC Distribution. It was attended by senior ADNOC and ADNOC Distribution executives and key stakeholders, including Abdul Majeed Al Khoori, Acting Chief Executive Officer of Abu Dhabi Airport.
Abdulla Salem Al Dhaheri, Director of Marketing, Sales and Trading for ADNOC, said: "The opening of the North Depot at Abu Dhabi International Airport's new Midfield Terminal represents the latest stage in our growth and expansion strategy to meet the needs of aviation customers. Through ADNOC Group, we now refuel as many as 34 aircraft per hour at 26 fuel depots across the UAE. More than 200 customers in the civil and military sectors rely on our high standard products and services, distributed through state-of-the-art fuelling facilities, and with health, safety, and the environment (HSE) at the core of all operations."
Some Dh750 million (over $200 million USD) was invested in the fuel depot at the new Midfield terminal to meet an anticipated significant increase in demand for aviation fuel from Etihad Airways and its associated airlines. With a fuel storage capacity of 96 million litres - comparable to the amount of water needed to fill 38 Olympic size swimming pools - the North Depot will be the airport's exclusive provider of Jet A1, a fuel manufactured to meet the most stringent standards and specifications as recognised by its international validation.
"ADNOC's sophisticated systems and operational processes are internationally recognised as delivering increased reliability, elimination of delays, lower rates of accidents and incidents, and reduced overall costs. Our equipment and facilities compete with the very best available among the world's aviation fuel providers", added Al Dhaheri.
Abdul Majeed Al Khoori, Abu Dhabi Airports Acting Chief Executive Officer, commented "We are delighted that ADNOC has opened this new facility, which is another milestone towards the completion of the iconic Midfield Terminal Complex. Working in close cooperation with key stakeholders, such as ADNOC, will enable us to deliver one of the best airport terminals ever seen, moving Abu Dhabi Airports closer towards its vision of being the world's leading airports group."
The North Depot will provide up to 6.5 million litres of fuel per hour through a battery of 24 pumps controlled by a Basic Process Control System with sophisticated gauging mechanisms to monitor the level of fuel in the depot's tanks: the facility will be capable of fuelling more than 100 aircraft simultaneously as a result. To ensure the highest safety levels, the depot is equipped with advanced fire detection and fire suppression/firefighting systems. Continuity of service is ensured by a full generator backup facility to power the depot and its pumps in the event of a cut in electric power from the public grid.
A key element in the realisation of Abu Dhabi Vision 2030, Abu Dhabi International Airport's new Midfield Terminal, which will be served by the North Depot, has the capacity to handle more than 30 million passengers annually after it becomes fully operational.