ADNOC Announces the Expansion of Its Ramadan Activities to Support More Than 1 Million People in the UAE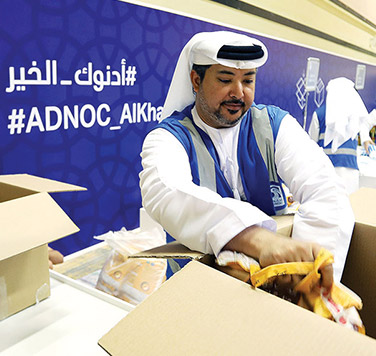 Abu Dhabi, UAE – June 3, 2018:
On the occasion of Zayed Humanitarian Day, the Abu Dhabi National Oil Company (ADNOC) announced, today, it has expanded its annual Ramadan activities, committing to provide more than 1,000,000 community members with food, water and power, helping to enhance Muslims' lives during the Holy Month of Ramadan, across the UAE.
ADNOC's Ramadan program this year includes:
Family Support: Working with the Khalifa Bin Zayed Al Nahyan Foundation, ADNOC is supplying 6,000 Liquefied Petroleum Gas (LPG) cylinders to more than 300 families, who will then provide meals for 1 million people fasting across the UAE. ADNOC is also delivering 30,000 gallons of fuel to power the generators for the annual Ramadan program organized by the Sheikh Zayed Grand Mosque, in Abu Dhabi, which serves 60,000 people.



Charitable Giving: ADNOC's Ramadan Box Drive will deliver more than 2,000 boxes of essential food items to thousands of families across the UAE. This is a five-fold increase compared to 2017. More than 30,000 items of food will reach the community through this initiative. ADNOC has partnered with The Zayed Bin Sultan Al Nahyan Charitable and Humanitarian Foundation to ensure the boxes are distributed to those in need. In addition, 100 volunteer ADNOC employees will assist in distributing 7,000 food boxes at the Sheikh Zayed Grand Mosque.



Diversity and Inclusion: ADNOC has enhanced its partnership with the Special Olympics to raise deeper awareness and promote diversity and inclusion among its workforce. Members of the UAE Special Olympics team will hold workshops across the ADNOC Group to share with employees their inspiring personal stories.



Healthy Lifestyles: ADNOC is in its seventh year as the main sponsor of the annual Ramadan Bowling Tournament. This event has become a mainstay on Abu Dhabi's sporting calendar and attracts an increasing number of bowlers, including People of Determination.
Reem Al Buainain, Manager of Corporate Social Responsibility (CSR) at ADNOC, said: "As we observe Zayed Humanitarian Day – inspired by the late Sheikh Zayed's passionate commitment to improving the lives of people – ADNOC has significantly expanded its Ramadan activities this year. To ensure even more people in the community will benefit during this Holy Month, we have partnered with a number of organisations to expand and strengthen the reach and depth of our program.
"Ramadan is a month of sharing, giving and compassion, and ADNOC is committed to making a difference in people's daily lives, in line with the directives of our nation's leadership. Whether it is vulnerable people in the community, or our own employees, we want to enhance their well-being through outreach programs that deliver tangible benefits to them and the wider society."
ADNOC's 2018 CSR Program is focused on People and Community Development. Through ongoing community-focused efforts, ADNOC seeks to create a positive and lasting impact on society, with programs that incorporate social impact activities, volunteering and national service.