ADNOC Celebrates UAE Flag Day, Honoring Company's Pioneers and Future Leaders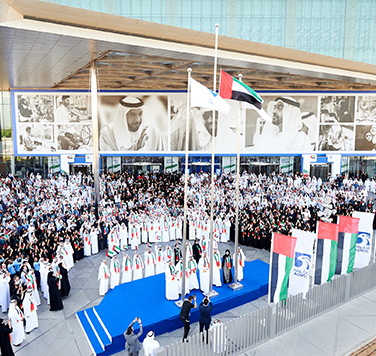 Abu Dhabi, UAE – November 1, 2018: The Abu Dhabi National Oil Company celebrated, today, United Arab Emirates Flag Day with a flag-raising ceremony at its headquarters, marking the anniversary of His Highness Sheikh Khalifa bin Zayed Al Nahyan's ascension to the UAE Presidency in 2004.

The proceedings were led by H.E. Dr. Sultan Al Jaber, UAE Minister of State and ADNOC Group CEO, who raised the flag alongside a number of employees, including former employees – 'ADNOC Pioneers' – who joined ADNOC Future Leaders in a moment of cross-generational solidarity and pride.

ADNOC's UAE Flag Day celebrations presented the opportunity to honor the strength of the nation, recognize the drive and ambition of the UAE Leadership and celebrate the unbreakable bond of its people.

Today's event followed the ADNOC Excellence Awards ceremony, held last night, where ADNOC honored employees' extraordinary efforts to support the company's transformation and 2030 smart growth strategy.

Ceremonies were also held at the headquarters of each of ADNOC's Group Companies.