ADNOC to Invest AED 5.1 Billion to Upgrade and Expand its Giant Bu Hasa Field as it Ramps up Onshore Crude Production Capacity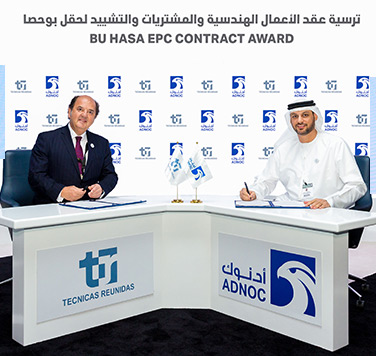 Abu Dhabi, UAE – November 14, 2018: The Abu Dhabi National Oil Company (ADNOC) announced, today, an AED 5.1 billion (US $1.4 billion) investment to upgrade and expand its Bu Hasa field that will increase crude oil production capacity to 650,000 barrels per day (bpd). This is an important step towards delivery of ADNOC's 2030 smart growth strategy that seeks to increase its crude oil production capacity and reduce cost to create a more profitable upstream business.

An Engineering, Procurement and Construction (EPC) contract has been awarded to Tecnicas Reunidas SA by ADNOC's subsidiary, ADNOC Onshore, which operates the field. The works are expected to take 39 Months to complete and the upgrade will increase oil production capacity from 550,000 bpd to 650,000 bpd by the end of 2020.

The EPC contract was signed by Yasser Saeed Al Mazrouei, CEO of ADNOC Onshore and Ricardo Sanchez Galindo, Upstream Business Development Director, Tecnicas Reunidas. The contract signing, which took place on ADNOC's stand at the Abu Dhabi International Petroleum Exhibition and Conference (ADIPEC), was witnessed by His Excellency Dr Sultan Ahmed Al Jaber, UAE Minister of State and ADNOC Group CEO, Arthur Wallace Crossley, CEO Upstream, Tecnicas Reunidas and Abdulmunim Al Kindy, ADNOC's Downstream Director.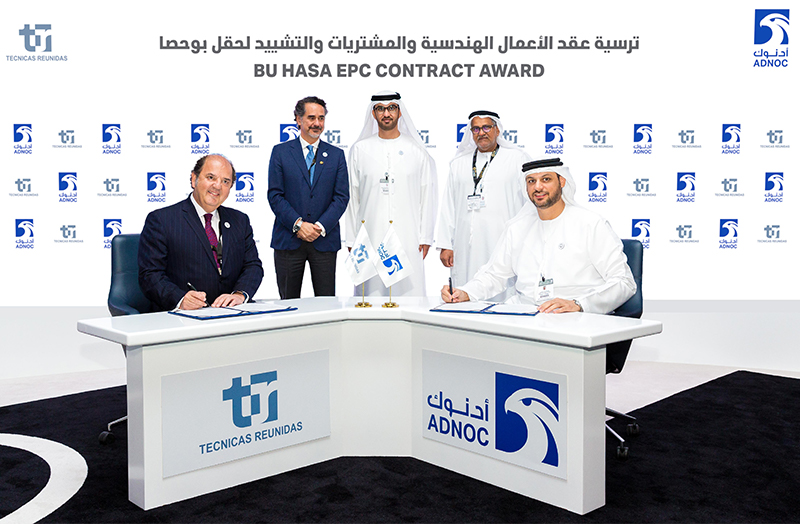 The award of the EPC contract follows the recent endorsement, by Abu Dhabi's Supreme Petroleum Council's, of ADNOC's plans to increase its crude oil production capacity to 4 million barrels per day (mmbpd) in 2020, and 5 mmbpd in 2030.

H.E. Dr Sultan Ahmed Al Jaber, UAE Minister of State and ADNOC Group CEO said: "This significant investment in the Bu Hasa field will enable production capacity to be increased and generate additional value. We are on track to meet our production capacity target of 3.5 million barrels of oil per day by the end of this year, and, as we look beyond that to 4 million barrels per day by the end of 2020, this contract is yet another sign of our clear commitment to making smart investments to maximize the value of Abu Dhabi's oil resources and drive significant In-Country Value, in line with our wise leadership's directives."

The asset upgrade and expansion include facilities, new pipeline networks and production hubs, as well as the conversion of three trains in a central degassing station and other related facilities. In addition to the incremental oil production from Bu Hasa, the project will streamline water handling, implement a second gas lift recovery phase and improve the overall production efficiency while reducing the number of inactive wells.

Abdulmunim Al Kindy, Director of Upstream at ADNOC said: "Tecnicas Reunidas SA has been selected to deliver and execute this important project after an extremely competitive tendering process, ensuring they will contribute in excess of 60% of the total contract as In-Country Value, which will amount to over AED 3 billion of value add to the UAE economy. We are partnering with an organization that can deploy effective engineering and value-add technologies in support of our company-wide drive for greater efficiency and reduced cost, while maintaining the highest safety standards."

Tecnicas Reunidas SA is a Spanish based engineering company founded in the 1960's. It started working in the UAE in 2006 and has historically been very active in using local suppliers and vendors. However, since ADNOC launched its In-Country Value Program it has been delivering an aggressive ICV improvement plan, focused on hiring more UAE Nationals, partnering with local entities, and working with local suppliers to purchase goods from the UAE. Earlier this year a consortium of Tecnicas Reunidas SA and UAE based Target Engineering Construction was awarded an EPC Contract for the second phase of ADNOC LNG's Integrated Gas Development Expansion Project.

The Bu Hasa field, located 200 kilometres south of Abu Dhabi city, is one of ADNOC's oldest oil fields, with production starting in 1965. It is operated by ADNOC Onshore.