ADNOC Launches Unified Brand Identity Across its Group of Companies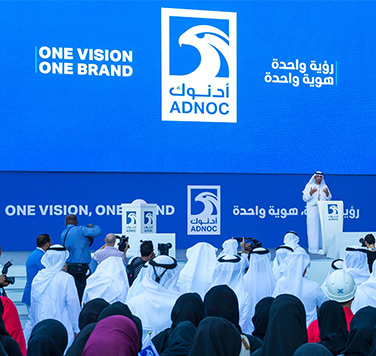 Abu Dhabi, UAE – October 15, 2017: The Abu Dhabi National Oil Company (ADNOC) launched, today, its new unified brand, bringing together its subsidiary companies under one common identity that will highlight the scale of its business, the size of its contribution to the UAE's economy and its positive impact on the nation's socio-economic development.
The unveiling of ADNOC's unified brand strengthens ADNOC's focus on the future, and will help create a more integrated, dynamic and progressive corporate culture, with a centralized governance model, while maintaining the operational autonomy of each company.
The launch event, held at ADNOC's headquarters, was attended by over 3,000 employees from across the organization and broadcast live to all employees in ADNOC's subsidiaries. Among those attending the event were H.E. Suhail Mohammed Bin Farj Al Mazroui, Minister of Energy, H.E. Noura Bint Mohammed Al Kaabi, Minister of State for Federal National Affairs, H.E. Maitha Al Shamsi, Minister of State, Sheikh Mohammed bin Sultan bin Khalifa Al Nahyan, H.E. Jasim Mohammed Alzaabi, Chairman of the Abu Dhabi Executive Council, members of the Executive Council, H.E. Abdulla Naser Al Suwaidi, former ADNOC CEO and Supreme Petroleum Council member, H.E. Mohamed Thani Murshed Al Rumaithi, Chairman of Abu Dhabi Chamber, local dignitaries, ADNOC business partners, and former members of the company's management team.
H.E. Dr Sultan Ahmed Al Jaber, UAE Minister of State and ADNOC Group CEO said: "The ADNOC Group has been given a unique responsibility, which is to harness energy resources in the service of our nation. To ensure we continue to deliver on this responsibility we must constantly look for ways to further enhance and evolve our company and adapt to the demands of the global energy industry.
"Inspired by our nation's journey and compelled by our unique mandate, we are bringing our people, businesses, products and services together under one unified ADNOC brand.
"We are confident that bringing the Group together, under one brand, will significantly enhance the visibility and positioning of ADNOC at a local, regional and international level," H.E. Dr Al Jaber said.
"This move represents an exciting chapter in the company's history. It will strengthen our position as one of the leading brands in the UAE and the region and highlight the scale of our business, the size of our contribution, and the extent of our impact.
"It will also re-energize our corporate culture, strengthening our Group-wide commitment to those values and principles that make the ADNOC family so unique. Most importantly it will increase our brand equity, reinforcing our 2030 integrated strategy to further unlock, enhance and create value."
Alongside the unveiling of ADNOC's single brand identity, the company has also introduced a reinvigorated Vision, inspired by the Father of the Nation, Sheikh Zayed bin Sultan Al Nahyan, who said: "We use the wealth God has provided us in the service of our nation."
ADNOC's Vision reinforces this principle by stating: "We harness energy resources in the service of our nation", while its Mission states that "Through partnership, innovation and a relentless focus on high-performance and efficiency, we maximise the value of energy resources."
ADNOC has also outlined a set of brand values that guide company culture and define how it will operate. The values, where were identified and voted for by the company's employees, include being:
Progressive - harnessing the UAE's spirit of innovation to ensure ADNOC remains at the forefront of the global energy industry.

Respectful - encouraging a culture of inclusivity and mutual respect and operating to the very highest professional and ethical standards.

Collaborative - working with partners and peers, leveraging collective strengths to deliver mutually beneficial results.

Responsible - committed to proactively identifying ways that can make a difference, while maintaining an unwavering commitment to health, safety and the environment.

Efficient – being a performance driven company, dedicated to maximizing the value of energy resources of the benefit of its people, its community, partners and the nation.
The launch of ADNOC's unified brand was marked by a fly-by by Al Fursan, the UAE Air Force's aerobatic and demonstration team, trailing blue and white smoke above the Abu Dhabi Corniche, and a flotilla of ADNOC branded traditional Arabian sailing boats.
H.E. Dr Al Jaber paid tribute to those, past and present, who have contributed to ADNOC's legacy of success. "We should never lose sight of the fact that our future success will be built on the foundations laid by the hard work, dedication and commitment of others, especially retired members of the ADNOC Group's former leadership and our strategic partners. We owe them a debt of gratitude, which I acknowledge, as we embark on the next phase of our journey."
The introduction of the revitalized brand is the latest step in ADNOC's 2030 smart growth strategy, which is maximizing value and increasing profitability, as it delivers a more profitable upstream business, a more valuable and diversified downstream business and a more sustainable and economic gas supply.
ADNOC also recently unveiled a new partnership and co-investment approach that builds on its flexible operating model and its 2030 strategy. It will enable ADNOC to unlock and maximize significant value from across the Group, ensure competitiveness, drive business and revenue growth, enhance performance, and secure greater access for its products in key growth markets.