ADNOC Strengthens Energy Partnership with Japan as it Pursues Growth Opportunities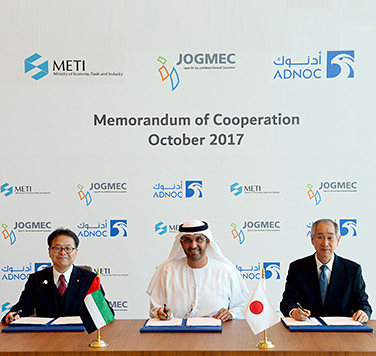 Abu Dhabi, UAE – October 8, 2017:
The Abu Dhabi National Oil Company (ADNOC) has strengthened its long-standing energy partnership with Japan, through the signing of a tri-partite Memorandum of Cooperation with Japan's Ministry of Economy, Trade and Industry (METI) and the Japan Oil, Gas and Metals National Company (JOGMEC).
The memorandum was signed by H.E. Dr Sultan Ahmed Al Jaber, UAE Minister of State and ADNOC Group CEO, H.E. Hiroshige Seko, Japan's Minister of Economy, Trade and Industry and Keisuke Kuroki, President of the Japan Oil, Gas and Metals National Company. It establishes a framework for cooperation on strategic business development; upstream technical cooperation; and training and development programs for ADNOC employees.
H.E. Dr Al Jaber described Japan as one of the UAE and ADNOC's longest-standing and most important partners and customers. "The long-term energy partnership between Japan and the UAE is one that goes back to before the establishment of ADNOC, with Japanese companies playing, and continuing to play, an important role in the development and expansion of the country's oil and gas industry," he said.
"Today we are strengthening that partnership by pursuing new opportunities that will help us unlock greater value from our resources. This is a clear example of how our expanded approach to partnerships presents unique opportunities for both new and existing partners to invest alongside ADNOC to capture growth opportunities and deliver future prosperity."
ADNOC has supplied Japan with oil, gas and refined products since its foundation in 1971. It is Japan's second-largest supplier of crude oil and a major supplier of gas and refined products.
H.E. Minister Seko said: "This Memorandum of Cooperation marks a new phase in Japan's long and successful relationship with ADNOC, an important and valued energy supplier. In common with ADNOC, we believe the changing oil and gas market dynamics require a smart response, one based on long-term, value add partnerships that create new opportunities and drive economic growth. We look forward to working closely with ADNOC across its full value chain."
In 2016 ADNOC's crude oil exports to Japan averaged 513,000 bpd, which represented around 25 per cent of Japan's crude oil imports. In January, Japan's Ministry of Economy, Trade and Industry extended its agreement with ADNOC to store crude oil at the Kiire Oil Terminal, in Kagoshima City, for two years. Under the deal ADNOC can store up to 6.29 million barrels of crude oil, providing ADNOC with greater access to Asian markets while giving Japan priority access to reserves in times of tight supply.
Kuroki said: "We welcome this opportunity to work with ADNOC and to deploy our advanced technology, resources and expertise in support of ADNOC's drive for greater operational efficiencies and to assist with the development of its oil and gas assets and people."
The first shipment of UAE crude oil was exported to Japan in 1962, from Abu Dhabi's offshore Umm Shaif field. Since then, Japanese companies have partnered with ADNOC to develop the emirate's oil and gas resources with the Japan Oil Development Company (JODCO) having a 40 per cent share of the Satah concession; 12 per cent of the Umm Al-Dalkh concession and 12 per cent of the Upper Zakum concession, operated by ZADCO. In addition, JODCO has a 12 per cent share of the ADMA concession and 5 per cent of the ADCO concession and Mitsui has a 15 per cent share of the ADGAS joint venture.
ADNOC's Japanese partners also contribute to ADNOC training and research and development programmes. Meanwhile, 13 ADNOC scholars are studying in Japan in different universities.